There are a myriad of unique ways to create the impression of weight loss with strategic color techniques. Furthermore, you can look ten pounds lighter by applying the illusion of color. In fact, color is one of the main elements that we can use to our advantage. By this, I mean color is a very powerful tool that can create an amazing illusion, which will make a person appear taller and slimmer.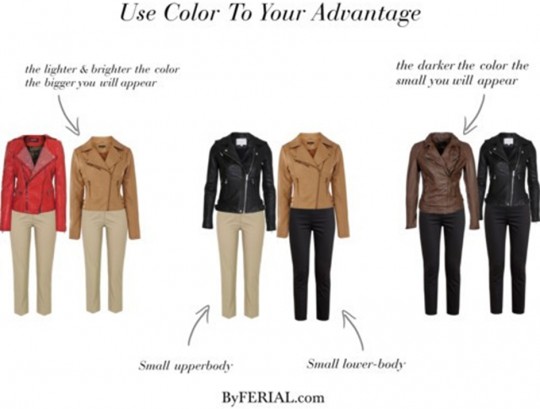 Creating Illusions with Color
Looking Slimmer & Lighter Through Monochromatic Dressing Styles.
However, choosing the right colors requires skill and sharp fashion sensibilities. On the one hand, you can approach color from a monochromatic point of view. What this means exactly is that you can wear a particular color from top to bottom in order to look slimmer, taller and lighter. These monochromatic outfits create a vertical line of appearance, which enhances and manifests a slimmer look. In addition, the silhouette of an outfit can also represent a vertical line, which will make you look visually taller and thinner.
Using Color To Your Advantage
There are a number of pertinent ways to use color to your advantage. Therefore, you should realize the immense potential behind color coordination and the way you can put colors together for your outfits. Moreover, by achieving successful color patterns, your body weight and height will increase or decrease depending on your selected colors. This is why you should take advantage of using a premeditated and precise color combination strategy when you are getting dressed. Essentially, this is how you can manipulate color to your advantage.
Applying Light Colors
On the one hand, light colors tend to work in reverse for someone who wants to appear thinner. Moreover, light colors enhance a body's weight and structure. In this sense, you can use lighter colors effectively if you are aiming to appear bigger in certain outfits. Therefore, if you would like to appear bigger, then lighter colors are the best way of going about getting dressed.
Applying Dark Colors
Dark colors are colors that recede and create the appearance of making you look taller and slimmer. Most people use dark colors on the bottom of an outfit in order to create a balance with the upper body. On the other hand, you can use medium colors in order to achieve the effect of neutrality on the body.
Vertical Line Design By Pattern And Focal Point
It is acceptable to wear vertical stripes that are woven into a fabric. However, when the fabric is stretched you will not create the proper effect or illusion. Therefore, the design pattern can work against you. On the other hand, you can embellish a simple bright color in order to create a specific focal point to your outfit. This technique will distract the eye and move attention away from undesirable areas.
If you are not sure where to place the correct techniques of color coordination and combination please speak to one of ByFERIAL consultants, after all they are here to help.? ??