Look good and feel fabulous, No matter what your body shape! The key is understanding how to dress for your body type, while combining a unique style with clothes and colors that flatter you. Not only will you feel fantastic, but you will make a positive impression on everyone you meet and trust me, people will notice!
Only a small percentage of the population actually have a perfect body and I am sure they all have their own hang ups as well. Yes it is true, even Victoria Secret supermodels have fat days. Just because we are not born with it doesn?t mean we can?t create it. It is easy to create the illusion of a perfect body; the secret is to choose clothes that balance your shape. For example, if you are a woman with short torso, you can create the illusion of a longer torso by choosing tops which emphasize your shoulders and flow through the waist.
Determine your body type The first step to looking fabulous is working out exactly what body type you currently possess. There are basically six different categories of horizontal body types:
Hourglass – The hips and bust are around the same size while the waist is between nine and thirteen inches smaller.
Inverted Triangle – This figure is top heavy, with broad shoulders and/or a full bust.
Triangle/Pear – The most common shape in women, this figure has narrow shoulders and/or a small bust and proportionally larger hips and bottoms compared to their waist.
Rectangle – These figures lack a defined waistline. This is a common shape found in thin or athletic people.
Diamond – The stomach area is the most protruding part of the body.
Fuller Figure – Weight is distributed all over to create a rounded appearance.
Dressing for your shape
Once you understand what your body shape is, you can dress to accentuate your assets, minimize your less attractive features, and balance your appearance to achieve better proportions. Yes it is really that simple! So here we will share the secrets on how to enhance you fabulous figure.
If you have an hourglass figure, dress to emphasise those great curves. Avoid baggy styles and draw attention to your waist with belts or clothes with waistbands.
If you have an inverted triangle figure, you have been blessed with a good bosom so show off those curves with attractive – but plain and simple – tops. However, by also drawing attention to your hips and legs, you will create a more balanced image. Try flared skirts or pants to balance your wide shoulders.
If you have a triangle or pear shape, you can enjoy wearing many feminine and waist accentuating styles. Enhance your upper body by wearing shoulder pads, tailored tops and accessories. Wear pants or skirts that drape loosely around the hips.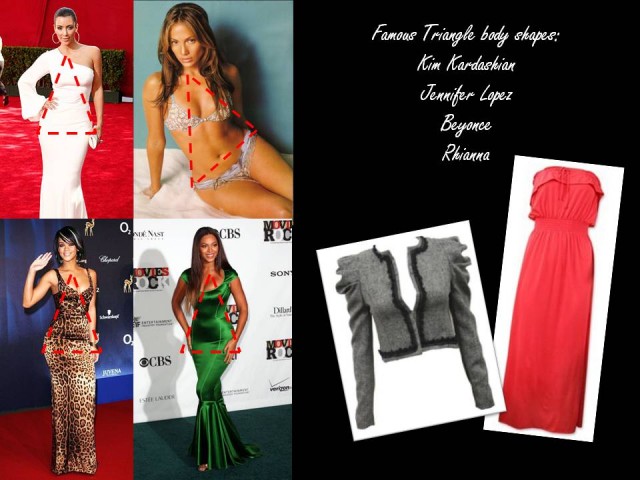 If you have a rectangular body, create an illusion of a waistline by wearing wrap dresses or tops with diagonal lines. Try a longer jacket with a shorter skirt. Avoid belts that accentuate your lack of a waist.
If you have a diamond shaped body, try layering on the top part of the body to give a slimmer illusion. Dress the top portion of the body with simple clean lines and plain, dark colors. Stick with pants that taper slightly and jackets that don't pull across the hips and bottom. Try tops with extra details like pockets to draw attention upwards.
If you have a fuller figure, look for clothes that accentuate your great hips and legs. Wear fabrics with details that mirror your scale. If you are delicate, avoid heavy textured fabrics that will overwhelm you. If you are big boned, delicate fabrics will be unflattering. Avoid fitted tops and wide belts which accentuate your middle. Consider a more tailored fit to flatter your legs.
Know your colors Wearing colors that suit your skin and hair tone will not only make you look healthier, younger and slimmer but they will also make you feel great! Various studies have shown that colors affect our moods, our perception of ourselves and the overall impression we make on others. So it is important to know what colors suit us. Look at your skin tone, your hair and eye coloring to determine which 'season' you belong in. As most people don't fit neatly into one color category, the simplest way to determine your colors is to invest in a meeting with an image consultant. When you know your colors, shopping for a wardrobe becomes much simpler.
To paraphrase Coco Chanel, ?fashion is like architecture – it's all in the proportions?, remember no one has the perfect body, however by knowing our body type and how to best dress that shape, we can create an illusion of beautiful proportions. If you would like assistance in choosing the right style for your figure type, please contact one of our certified image professionals by visiting www.imageconsultantstraining.com