There is groundbreaking news for this year in the realm of color analysis. The old techniques are becoming irrelevant as new and groundbreaking ideas emerge. ByFERIAL Image Consultant firm has spent many years developing new ways to approach color analyses and the research has finally paid off.
The Four Seasons
Conventional color analysis is based on the four seasons. Autumn is dark and fiery, winter has dark and light colors in sharp contrast, and spring represents growth and has vibrant colors while summer has cool and soft calm colors that reflect full life. This idea has been the foundation for color theory for many years, leading to various fashion, makeup and effects based around the seasons. That is until we realized there is a gray area.
The Gray Area
While ByFERIAL researched new ideas that departed from the Four Season concept, a new gray area started to show. The four seasons didn?t represent every color available, calling in to question various techniques used throughout the years. Delving back in to history, the researchers at ByFERIAL read various types of color theory throughout the ages. Studying the Munsell system, this gray area could no longer be ignored. Munsell based his theory of color on hue, lightness, and color purity. Reacquainting ourselves with this system has helped break through the old four season thinking.
4×4 Color Analysis system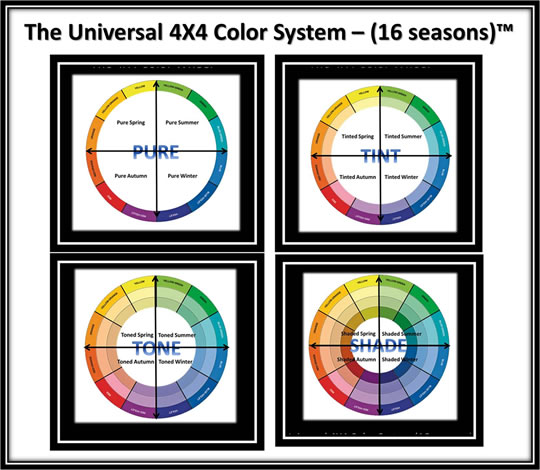 The new breakthrough is the 4×4 Color Analysis system. This unique system caters to all skin types. The foundation of the four seasons is kept, but each season has four separate categories.
The Categories
As we know, summer tends towards colors that are cool light but soft, representing nature in the prime of life. The categories for summer are Pure Summer, Tinted Summer, Toned Summer, and Shaded Summer. Each category is fine-tuned to represent a range of colors and helps with a variety of skin tones. Pure summer is the cool and brightest colors of summer, representing the growth of life. Tinted summer holds the lightest hues, harkening back to the sky on a cloudless day. Toned summer is in the medium range, representing the soil and the bark of trees. Shaded summer is the deepest colors, representing the earth and the life that lives on it.
These categories are spread through the rest of the four seasons, leading to a new ways to use fashion and make up.
Try our new 4×4 color analysis out by booking with ByFERIAL certified 4×4 consultant today.

Exclusive Offer:
50% Off Color Training Course
Fort Lauderdale, Florida
March 6th-7th, 2013