As our festive season is fast approaching corporate events, Christmas parties and family gathering will get us excited and feeling the spirit of the season. Until the dreaded moment we read the invitation and feel somewhat lost and frustrated with what to wear and not to wear as we are not sure of the dress code meaning.
Therefore we would like to share with our readers the clarification of what the different dress code levels mean to make sure when we receive the invitations we know exactly what to wear.
Keeping in mind it is always better to be over dressed than under-dressed!
Dress code meaning:
White Tie
A ?white tie? invitation calls for Ultra-formal attire. This, the superior, of all the dress codes is usually saved for official occasions and ceremonial events. Men are required to wear a black or white bow-tie, vest, and a black suit (tails recommended) while woman wear long gowns.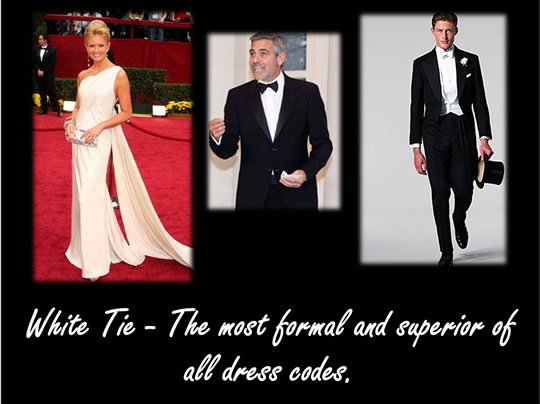 Black Tie
?Black Tie? invitation means formal attire. Men are required to wear tuxedos while women have the option to wear cocktail, long dresses or dressy evening separates.
Semi-Formal
?Semi-Formal? dress code means tuxedos and long dresses are not required however a dark suits is a good option. A cocktail dress, dressy suit or separates for women is recommended.
Cocktail Attire
?Cocktail Attire? means short or three quarter length garments. You will not go wrong with elegant dresses for ladies and dark business suits with a bit more adventurous tie for gentlemen.
Dressy Casual
?Dressy casual? dress code means dressed-up versions of casual looks. Lose the tie and try trousers and a sport coat are our recommendations for him and a dressy pants/skirt look for her.
Casual
A ?casual? dress code calls for more relaxed dress code – Jeans, shorts, T-shirts and other casual looks are acceptable. Casual means anything goes however it is always better to be overdressed than underdressed.
This is just a brief overview to help you understand dress codes, if you would like to know more or whenever in doubt, visit us on Image Consultant Training or contact a certified ByFerial Image Consultant ? Click Here to Find one near you