Most entrepreneurs emphasize effective communication because we all know that the words we speak are responsible for conveying the impact we desire. Therefore, most business professionals choose their words carefully, come prepared to meetings with preconceived concepts and ideas, and use communication that is appropriate for both their environment and their audience.
While the words we speak help to convey important concepts and ideas, the visual impact of style allows you to convey something even more powerful: who you are. In fact, studies have shown that effective communication comes down to 55% image, 38 % words, and 7% tone. In this post, we're going to go over how to use clothes to say the right thing before you even start speaking!
Your Signature Look
Your personality and your energy are unique. And who you really are, is one of the best things about you! It's when you express who you are accurately that your words will have the greatest impact. That's why one of the most important things one can do before considering clothing, is to consider style. To find your style, combine what you love with what actually suits you, your body shape, and your lifestyle. What is your signature style?
Ask yourself:
What do you like and what looks good on you?

How does my lifestyle and the environments I frequent translate into clothing?

What do I feel most comfortable in?

What patterns, cuts, textures, and styles am I most attracted to?
It's All In The Color
Color has the power to draw out your true self. When you're wearing the right colors, they can not only help you look younger and fresher but also more approachable and powerful. While a color analysis can help you determine what your own specific color palette is, there are 5 core colors for business that can help you communicate with your clothing.
Black helps establish power and authority when you need to show up as the leader or manager. 

Blue represents trust and can help with speaking one's truth, negotiations, new partnerships, or financial matters.

Gray is the color that represents professionalism and sophistication. Wear this color for meetings, interviews, or presentations.

Beige is considered an approachable color. This can help when you are meeting new clients or potential partners. 

White is a basic must-have staple that represents new beginnings fresh and light energy.
The primary colors also represent various emotions and messages and can create powerful combinations. For example, if a female works in an all-male environment a red and black color combination can help her have more presence and authority in the workplace.  Remember, colors are not about fashion — they are about how you feel from the inside out. 
Ask yourself:

What colors are you most drawn to? Do these colors create the most harmony in your look?

Click here to learn more

about the 4×4 color system.
What Message Are You Sending?
Once you've outlined your own unique signature style and determined your color palette, it's time to consider how that translates into your clothing. The key is to find clothing that represents your personality and what you're looking to communicate. 
People will say "No" when they're confused with what you're saying, they will also say "No" if they're confused with who you are. In business, it's important to instill confidence, security, and credibility in your peers. The bottom line is…if you want to elevate your business, secure a new account, or establish a new partnership, you must dress the part. The idea isn't to make yourself feel like you're playing a role, but to choose clothes that are an extension of the real you and your message!
The 3 most important things to consider in order to communicate effectively with your style are: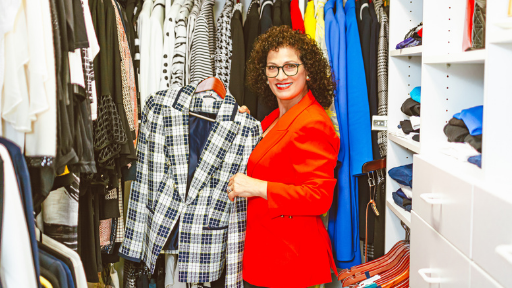 1. Wear the right outfit for the right occasion. 
Are you meeting with a boss, an employee, or a co-worker? Where are you meeting? Environments and circumstances all demand an appropriate look. For example, you wouldn't wear the same thing on a lunch date with a co-worker as you would to a board meeting with an executive decision-maker. 
2. Know exactly what it is you want to convey. 
Powerful entrepreneurs often refrain from busy prints and patterns and instead rely on solids. The reason for this is that they want people focused on what they're saying, not on what they're wearing. Go bold and opt for crisp lines and colors to make a bold statement, or use details like ruffles or cozy scarfs to soften your message. 
3. Plan your wardrobe. 
Remember to try things on prior to wearing them to ensure a proper fit and make sure you're comfortable in the clothes. This helps you to understand what items you have, how they fit, and how they work together. 
Ask yourself: Am I putting out different energy with my clothing that doesn't accurately represent who I am and what I'm trying to convey?
Next Steps?
Are you looking to be the best version of yourself in both your personal and professional life? Whether you're looking to start your own business, or grow an existing one CLICK HERE >> TO START A FREE 1-WEEK TRIAL FOR EMPOWER GROUP!